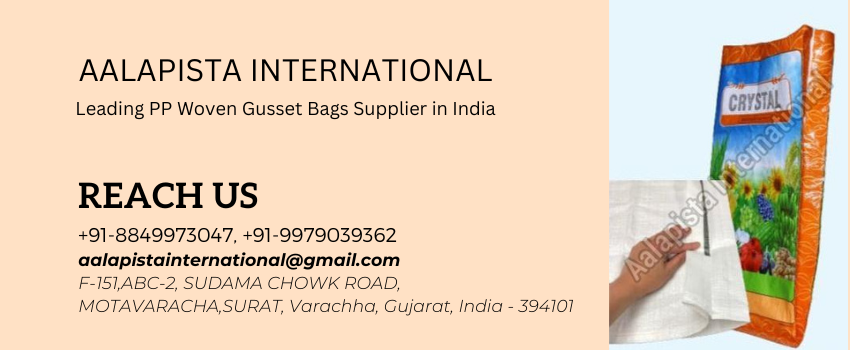 PP Woven Gusset Bags offered by PP Woven Gusset Bags Supplier in India promises to offer high-quality bags for the customers.

PP woven bag is prepared from polypropylene resin which is also recognized as PP for the short term. It is one sort of thermoplastic resin material. During the process of production, it is first made into a plastic film and then strained into flat tapes. The polypropylene tape will be woven in two ways to make a light, but heavy-duty fabric and strong, which will be used as the main stuff for packaging making, therefore the name woven package.
Perfect for packaging and shipping
Are you searching for special ways to organize, store, or ship products or goods? The most ordinary bag for both storage and protection is the flat poly bag. These bags are simply flat. They are perfectly used for packaging products that are not odd in shape or even quite large. Gusset Bags offered by PP Woven Gusset Bags supplier will surely meet your requirements.
An affordable option for everyone
Poly bags are available in quite affordable and space-saving choices to boxes. If storage boxes are just too heavy and costly for your taste and budget, you might wish to use poly bags.
Plastic bags can store almost something. They commonly come in different sizes for any idea. Meanwhile, you'll wish to pay close attention to the "mil" which is a capacity of thickness. Do you have some light objects to package? One or two might work for you. For a heavy thing like a book, you might wish to have a 4 to 6 mil bag. These bags are durable as necessary to hold even the heaviest items, for as long as you make sure that you picked the exact size for the precise item in mind.
By providing outstanding aesthetics and functionality, PP woven bags have turned the top packaging stuff for the diverse business in India. In developing nations, it is more popular due to its durability and cost than the developed nations.
Gives a better Printing Facility
The PP Woven Gusset Bags Supplier in India with PP Woven Gusset Bags has provided a long means with numerous modifications in them. The fabric is available for printing. The PP bag companies have personalized the PP fabric in a means that now it is friendly with different kinds of printing which includes flexography, letterpress, lithography, and gravure.
Printing on cloth was the need of the packaging business. There are different reasons for that they are printing makes the packaging quite attractive, it assists in sharing information on the packed products and packing information, supports product promotion, and assists in marketing and advertising of products.
The whole comprises three steps which include cutting, sealing & folding. For special kinds of bags, they make use of the appropriate cutting machines. In the step, side gussets, and base gussets will be complete. For bags with a grip clip loop, soft-loop, and rigid, they have one more step of management. With the shopping square bottom bag, users also need cardboard to create a bag strong and in a good shape.